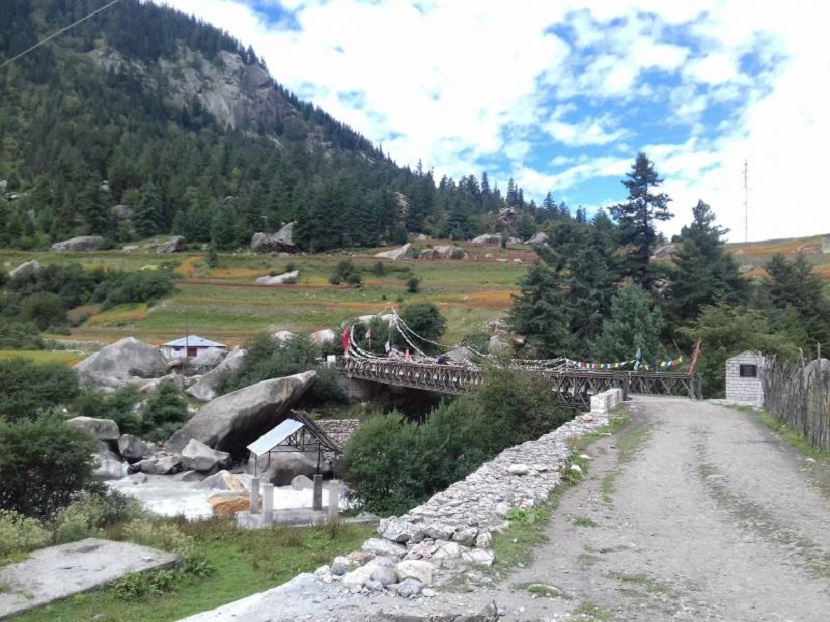 No matter where are you going, a holiday can diminish our everyday work pressure. A vacation can not only help us to rejuvenate but also help in creating priceless memories. When it's a matter of choosing a place for a vacation, there are countless options. Our country is full of wonderful places with natural scenic beauties. You can glance at the elegance of massive snowy mountains as well as endless wise beaches.
Are you a mountain lover and looking forward to having your next vacation in the deep snowy valleys of Himachal? Then Chitkul would be an excellent option for fulfilling your desires. There is no doubt that Himachal Pradesh is an incredible place for conducting tours. Chitkul is a village that is situated in the Kinnaur district of Himachal Pradesh. Chitkul is mainly famous for its snowy atmosphere and natural scenic views.
Himachal has numerous districts to visit. Each of them is filled with an incredible natural elegance and lovely splendour. But among all the districts of Himachal, Kinnaur is possibly the most stunning one. You can experience eye-catching spectacular natural views, tall alpine trees, and an incredibly delightful climate. And if you are an enthusiast of adventure sports, there there are countless opportunities.
Kinnaur is a small hill station that is perfect for visiting throughout the year, especially in winter. If you are looking forward to having a remarkable Chitkul trip, create a list of the must-visit places. Make sure you have included Baspa River Front, Mathi Temple, Kamru Fort, Charang Chitkul Pass, and Rakchham Chitkul Wildlife Sanctuary in your list. You can visit Shimla, Kullu and Manali too if you are planning to have a long trip.
Before planning your Chitkul trip survey the weather of the place well. The best time to travel to Chitkul is from March to June, as the average temperature ranges between 15 to 25°C. However, if you wish to conduct your tour in a more calm and peaceful time and wish to explore the snow in these hill stations, plan a tour to Chitkul between October to January. Because you can experience temperatures as low as -2 to 8°C.
But without planning conducting a tour to Chitkul is not an easy thing. This is why proper planning is the first requirement. Therefore, booking Chitkul tour packages can be a sound option. While planning your trip, you need to evaluate some considerable aspects. This not only saves a great amount of money but also prevents any hassles.
Let's talk about the facts with a detailed assessment.
Make A Detailed Plan
The very first requirement of booking any tour package is to create a precise plan. Before booking any tour package, note down everything with detailed descriptions. Proper planning can help you to conduct your trip progressively. If you make a primary scratch about the places you would visit can help you to make your trip more enjoyable.
If you are planning a short vacation, at least spend at least 2 nights in Chitkul. Also, make a list of the destinations you want to stay in. There are so many fascinating and attractive things to do in Chitkul. If you are planning to attend adventure sports, conduct a trip of at least 4-5 days. If you do some good study on the must-visit places, it can help you travel to Chitkul at a cost-effective rate.
The Mode Of Transportation
The next significant element of booking Chitkul tour packages is to confirm the mode of transportation. No matter from which corner you are coming to Chitkul, there are numerous modes of transportation. When it's about a tour to Chitkul. You can select trains, flights, buses and cars as means of conveyance. There is no direct train or flight to Kinnaur. You need to travel to Kinnaur via Shimla or Manali by train or flight. Then you can book a private car or travel by bus.
But to avoid any complications regarding your tickets and to get thrilling offers, always select a reputable travel agency. If you want to save a good amount, try to choose more reasonable modes. You can visit different sights in Chitkul by bus rather than in personal cars. This can help you to save the overall cost of your trip. You can also choose from multiple Chitkul tour packages to get a trip within your desired budget.
Book Comfortable Hotels
The next big issue in planning a Chitkul trip is hotel stays. It's unnecessary to cite that there are countless options for hotel stays to choose from. There are 5-star hotels, 3-star hotels and even cheap hotels too. While selecting lodgings for your Chitkul trip, always try to secure comfort but at a reasonable price. But how? Well, before booking any lodging, see the reviews well and discuss everything well with the hotel staff.
If you want to book your lodging at an economical rate, select a hotel that is positioned in a less commercialised place. The primary concern while booking a hotel should be comfortable, not the locality. Booking lodgings that have limited indulgences can help you redeem the overall cost of your Chitkul trip. You can book Chitkul tour packages to get a trip like never before.
Plan Adventure Activities
The best way to make your Chitkul trip remarkable is to plan some adventure activities. Fishing, underwater sports like scuba diving, glass water boat riding, and birdwatching can be sound options if you are looking forward to having a thrilling experience. You can do trekking also if the intention is to have fun. For conducting all these actions, you need to book efficient Chitkul tour packages.
Take All The Required Things
While conducting a tour of Chitkul, do not forget to arrange your bags properly. Along with your fashionable clothes and accompaniments, it's necessary to take all the required accessories. This is to avoid any inconvenience on your trip. Below is the advice that you must follow before conducting any tour.
● Keep adequate warm clothing and good-quality shoes.
● Keep your medicines, sunscreen, and toiletries.
● Don't wander outside lonely at night and always be with your friends and family.
So these are some of the best methods of getting a Chitkul trip that can be ever-memorable. So, what are you waiting for? Follow our article and get a Chitkul trip like never before.