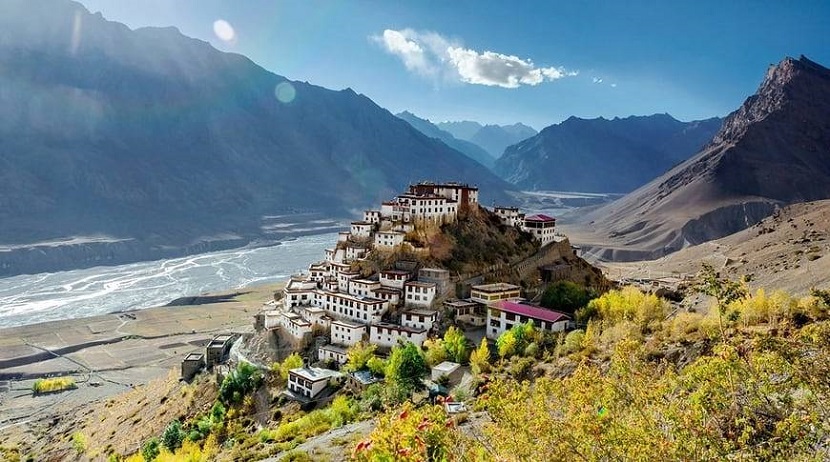 Visit the beautiful and mysterious Spiti Valley in Himachal Pradesh if you do not believe there is anything like heaven on this planet. This enormous, icy desert, rightly called "Little Tibet," is harsh and desolate but wonderfully stunning.
You'll be in awe of Spiti's postcard-perfect scenery and its main attractions. When you Book Lahaul & Spiti Tour Packages, you find that it is surrounded by steep ravines and canyons.
The Spiti Valley is home to lively monasteries, charming hamlets, snow-capped mountains, lush woods, and magnificent lakes, which are the most fascinating sites to visit. Before we proceed to the must-see attractions in Spiti, here are some crucial details on how to get there and the best time to go.
Are you browsing for the major attractions in Spiti Valley because you're planning a trip there?
The following is a list of the best destinations in Spiti Valley that you should visit for a meaningful getaway.
Key Monastery –
Key Monastery, sometimes referred to as Kye Gompa and located in the Kaza region, is among the most popular destinations in the Spiti valley.
One of the biggest gompas, Key Monastery is famed for its spectacular Buddha temple, antiquated literature, manuscripts, and paintings. It is situated at an elevation of 4112 metres above the Spiti River.
The key monastery is undoubtedly one of the most captivating destinations to visit in Kaza and Spiti Valley. Its fort-like building mimics a Chinese theme, a stunning assembly hall, and an attractive Tengyur chamber. Nearly all of the Lahaul & Spiti Tour Packagesinclude the location.
Tabo Monastery –
The Tabo Monastery, known for its exquisite murals, is one of the ancient landmarks worth visiting in the Spiti valley.The main attractions of the monastery are its nine Tara and Buddha Maitreya temples and several stupas.
Other sights to view are numerous Bodhisattva stucco sculptures, gorgeous murals, and Buddha-related artwork when you Book Lahaul & Spiti Tour Packages.
Lhalung Monastery –
One of Spiti's first monasteries, Lhalung was established by the Buddhist Mahaguru Rinchen Zangpo. This old monastery, which is decorated by a complex of nine shrines, is regarded as a centre for Buddhist teachings. Additionally, Lhalung is frequently referred to as the "Golden Temple" because of the numerous gold-leaf gods it houses.
Gandhola Monastery –
Around 800 years ago, Padma Sambhava founded the Gandhola Monastery, which is famous for its woodwork monuments and statues.This monastery, which is basic and positioned where Chandra and Bhaga converge, has historical significance despite its simplicity.
Chandratal –
Chadratal in Lahaul, Spiti Valley, is among the most breathtaking spots to visit if waterbodies inspire the poet in you. The name derives from the shape of the crescent moon line. This glittering natural wonder is close to Kunzum Pass and is a photographer's dream. Additionally, the clear blue lake, abundant vegetation, and snow-capped peaks make it an ideal location for camping and hiking in Lahaul & Spiti Tour Packages.
Suraj Tal –
Sun Lake, or Suraj Tal, is one of Lahaul and Spiti's most picturesque tourist destinations. This breathtaking lake is adjacent to Baralacha Pass and is usually visited by nature enthusiasts, enthusiastic hikers, and photographers. Visit Suraj Tal from May to October throughout the summer to experience it at its most vibrant.
Dhankar Lake –
Unquestionably one of the most captivating sights in the Spiti Valley is Dhankar or Sar Kund Lake, a magnificent natural lake located on a rock at a height of 4270 metres. After a relatively challenging trip, one arrives at this gorgeous lake, where the wonderful vistas of the pure lake water and magnificent peaks wash away the exhaustion of the journey.
Kunzum Pass –
At 4590 metres, the Kunzum mountain pass, located in the Kunzum Range, connects the valleys of Kullu, Lahaul, and Spiti. This location on the map of the Spiti Valley is significant. From Chandratal Lake, a trek may be taken to reach the area, which provides breathtaking views of the Chandrabhaga Range. A centuries-old Devi temple and colourful Buddhist flags add to the awe of this geographical gem.
Baralacha Pass –
The Baralacha Pass on the Manali-Leh Highway in Zanskar, which also functions as a centre for another treacherous road that connects Lahaul and Ladakh, is one of the most challenging passes for adventurous tourists. From here, one can see where the Pir Panjal, Great Himalayan, and Zanskar ranges converge.
The waterways Bhaga and Yunam that border the route's flanks add to its beauty. It is one of the most captivating tourist destinations in Lahaul and Spiti and is great for camping, hiking, and mountain riding. If you are planning a road trip to Ladakh alongside your substantial other or your friends, Baralacha in Spiti would be among the best experiences you have.
Pin Valley National Park –
One of the most exciting sites to visit in Lahaul & Spiti Tour Packages is Pin Valley National Park, surrounded by semi-frozen streams and a rich bio sanctuary of uncommon to endangered flora and wildlife.
Here you can also frequently find a variety of medicinal herbs, alpine vegetation, and cedar and deodar trees. The majestic Himalayas serve as the background to this Cold Desert Biosphere Reserve, which would be ideal for outdoor fans, photographers, animal enthusiasts, and bird watchers.
Kibber –
Kibber is one of the picture-perfect hillside hamlets in the Spiti Valley. It is undoubtedly one of the most beautiful yet difficult sites to explore in Spiti valley and is frequently visited by thrill seekers and ardent hikers.
Kibber, also known as Kyibar in its native tongue, is a tiny settlement at 4205 metres that has its Gompa and monastery and provides amazing views of the environs. It is a significant rest break on the Spiti Valley Trek as well.
Losar –
One of Spiti's must-see locations is Losar, which is situated at the junction of the Losar and Peeno streams, just yards from the Indo-Chinese border. One of Spiti's most natural villages, it is mainly unspoiled by visitors.
As a result, there are few places to eat and stay. The village's captivating beauty, though, makes up for its lack of comfort and luxury. Losar is worth a visit for its breathtaking scenery, glittering rivers and lakes, and thundering waterfalls.
The months of June through September are the ideal times to visit Lahaul Spiti Valley. These months have good weather, with daytime highs of 25 degrees and night-time lows of 3 to 4 degrees. Summer is the ideal time to go by car to Spiti Valley. Before it, the roads are closed for over 6 months as a result of the significant snowfall.
This collection of Spiti Valley attractions is the ideal road map for your trip there. When you Book Lahaul & Spiti Tour Packages, you can have a wonderful holiday in the lovely valley.